Viewing posts by Lindsey VanBuren
Adventure parks have become increasingly popular in recent years, providing thrill-seekers with an opportunity to challenge themselves while enjoying the great outdoors. But behind the excitement and adventure lies a serious need for safety and operational equipment that ensures the smooth and secure operation of these parks. This is where our sister company, High Country Hardware, comes in - providing all the necessary equipment to keep adventure park visitors safe and secure.


High Country Hardware specializes in the sale of safety and operational equipment for adventure parks of all sizes. From carabiners and harnesses to zip line trolleys and ropes, we have everything you need to keep your visitors and staff geared up to ensure the smooth operation of your park.
Posted by: Lindsey VanBuren 2 years, 10 months ago

INSPECTION PREP- How to get the most out of a professional inspection

By Corey Wall
Posted by: Lindsey VanBuren 2 years, 10 months ago
NOW HIRING
CDI founder, Jim Wall, on the passing of his friend and Industry leader Karl Rohnke


"In my humble opinion, our industry has lost our Godfather of the Challenge Course World.  Karl truly shaped so much of the best of what we are today.  I was always in awe when I had the opportunity to stand in his shadow and watch him work.  I was lucky to experience that infectious smile and the adventures and FUNN that followed. 

From the time I began working in the adventure/experiential education industry in 1980, Karl Rohnke and Project Adventure were big players. All those wonderful books that Karl wrote helped me do my job and to grow in appreciation of play and adventure.

In the Fall of 1992, I had the opportunity to join Lee Gillis at Georgia College, in Milledgeville, GA, to start an academic degree program in Outdoor Education and Adventure Therapy. As a result of Lee's friendship with Karl, we were able to convince him to come play and teach over 2 winter academic quarters. All the students were thrilled about the chance to be with Karl. Each and every day he was present, Karl created an adventure for himself and to share with the outdoor community. His adventures ranged from installing a pull-up bar in the Adventure Center and having pull-up contests, creating some rule if you were bored during a class or meeting like doing sit-ups to wake yourself up, seeing how far you could walk on railroad tracks without falling off, playing and creating games, games, and more games, testing ropes course events for failure (trying to drop or pull stuff till it breaks), once we hung my Isuzu Trooper off a belay cable with the front tires barely touching the ground, getting groups of students to go running with Karl around campus dragging heavy log chains attached to their waists. It did not take very long before the students were all focused on Karl. Two of his best partners in crime / creation were Dave Klim and my son Corey Wall. One day all 3 of them showed up in my office with grins on their faces. Karl said he wanted me to order 150 staples, a 500-foot reel of cable, and 24 cable clamps. I smiled and said what do you have in mind, he took me to the window and said, "look at those pines trees". Each tree was over 120 feet tall, he smiled and said "we want to build a 110-foot Flying Squired, an 80-foot AC/DC, and a 100-foot Stairway to Heaven (Giant's Ladder)." See the photo [below] as evidence of their creativity! As you can imagine, there was never a dull moment during those two glorious quarters; Karl's joy of play and learning inspired us all to never take ourselves too damn seriously and to create joy and laughter in our daily lives.

My closing story is about the day that Karl told me and Catherine (Tait) that we were going to write and publish The Complete Ropes Course Manual. What an adventure Karl and I had talking all about Ropes Courses and Cath had in writing and editing just as fast as she could! 23 years and 4 editions later, Cath and I still feel so privileged to have had that memorable experience with Karl. At this point, I am confident that Karl has climbed to the top of that Stairway to Heaven and is busy organizing adventures with his smile, grace, and playful nature."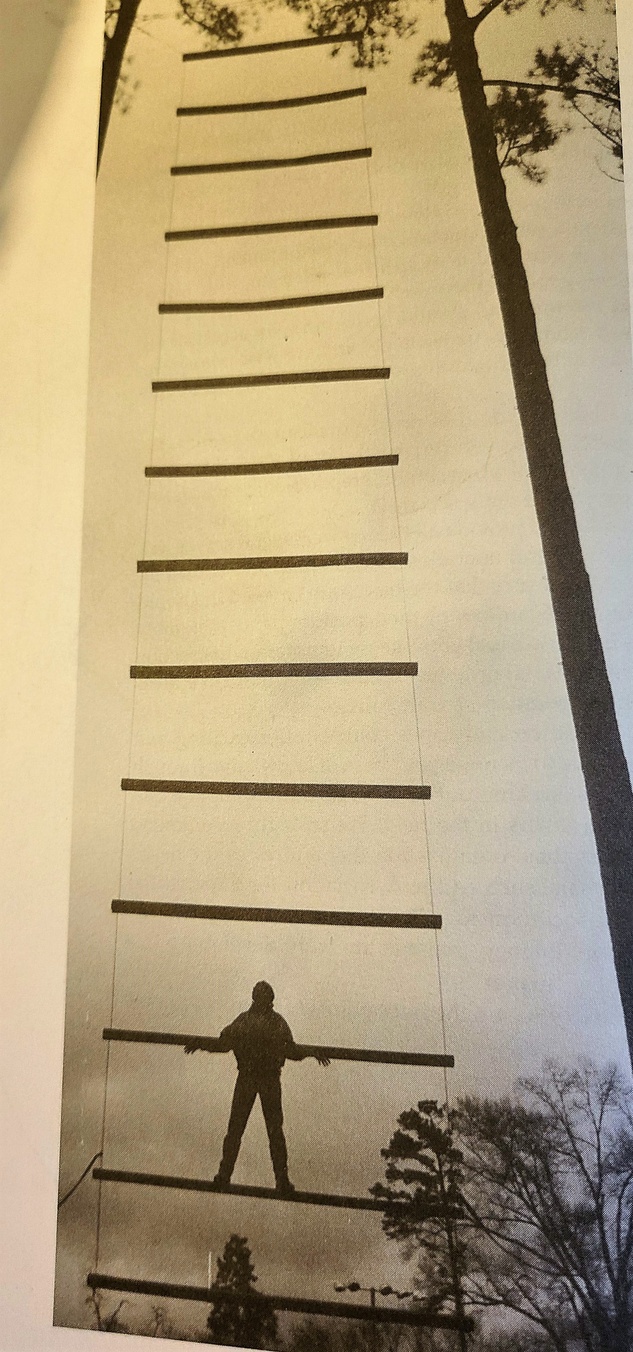 Posted by: Lindsey VanBuren 3 years, 2 months ago

October 06, 2020