Posted by: Lindsey VanBuren 3 years, 2 months ago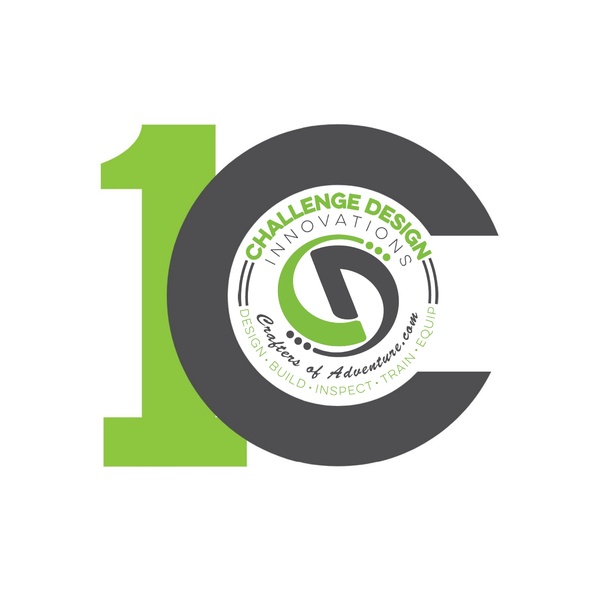 October 06, 2020
CHALLENGE DESIGN INNOVATIONS CELEBRATES 10-YEAR ANNIVERSARY
Banner Elk, NC - Challenge Design Innovations (CDI) turns 10 years old this month, marking an exciting milestone for a business that started with a bit of rope in the trees 40 years ago. 
"We look good for our age," laughs Director of Operations Katie Dickerson. "The company is ten years old on paper, but is built on the passion and experience of a family business that spans over 4 decades."
The story begins in 1980 when company founder Jim Wall built his first challenge course for San-Lee Park in Sandford, NC for about $45 in materials from a local surplus store. At the time, challenge (or "ropes") courses were just beginning to gain popularity as they were adapted from military training structures into experiential education tools by camps and alternative schools. Traditional courses often consisted of personal and team-building challenges either on the ground or installed high in the trees.
Jim was inspired by how effective such simple structures could be in fostering personal growth and relationships. He went on to co-found multiple design-build companies including Walls Outdoor Associates in 1987 and Cornerstone Designs, Inc. in 2000 with the help of his wife, Catherine Tait, and son, Corey Wall.  Together, the family launched Challenge Design Innovations in 2010, now operated out of Banner Elk, NC.
"I began building ropes courses with my father when I was 6 years old,'' says Corey Wall, now President and Owner of CDI. "I'm sure I was more trouble than help at that age, but it seeded a passion for adventure recreation and became the foundation for a life-long career."  
In the past ten years alone, CDI has built over 150 aerial adventure and team challenge courses in 36 states and currently serves over 630 clients to meet the inspection, training, and maintenance needs for universities, camps, military, therapeutic, and recreation programs.  All services provided are accredited through a peer-review process by the Association of Challenge Course Technology (ACCT), an ANSI standards developer for the global challenge course, aerial adventure park, canopy tour, and zip line industry.
In 2016, Jim Wall was awarded the Critical Link award by ACCT for his significant contributions to the development, maintenance, and growth of the organization. He served on the ACCT Board of Directors for 6 years and later joined the Worker's Safety Task Force to help develop recommendations to protect challenge course employees. CDI remains dedicated to raising the bar of professionalism and safety in the industry with multiple employees actively serving on safety and standard-development committees and task groups.
"I've seen this industry change dramatically throughout my life. We have been involved every step of the way as standards developed, regulations changed, and technology evolved," says co-founder Jim Wall. "But at the core, it's still about building relationships and the relationships I have built through CDI have been priceless."
After more than ten years building connections, CDI welcomes the changes, challenges, and opportunities the next decade brings.
About Challenge Design Innovations:
A second-generation family-owned and operated business, CDI designs, builds, inspects, trains, certifies, and equips ropes courses, challenge courses, aerial adventure parks, ziplines, climbing walls, and tactical training courses. Challenge Design Innovations has undergone a strict peer-review process to earn Association for Challenge Course Technology vendor accreditation. All design, installation, and services comply with current ACCT/ANSI standards. High Country Hardware is the gear and equipment division of CDI.
Challenge Design Innovation Inc: https://www.challengedesign.com/
Facebook:https://www.facebook.com/challengedesigninnovations/
Instagram: https://www.instagram.com/challengedesigninnovations/
High Country Hardware: https://highcountryhardware.com
Linkedin: https://www.linkedin.com/company/challenge-design-innovations-inc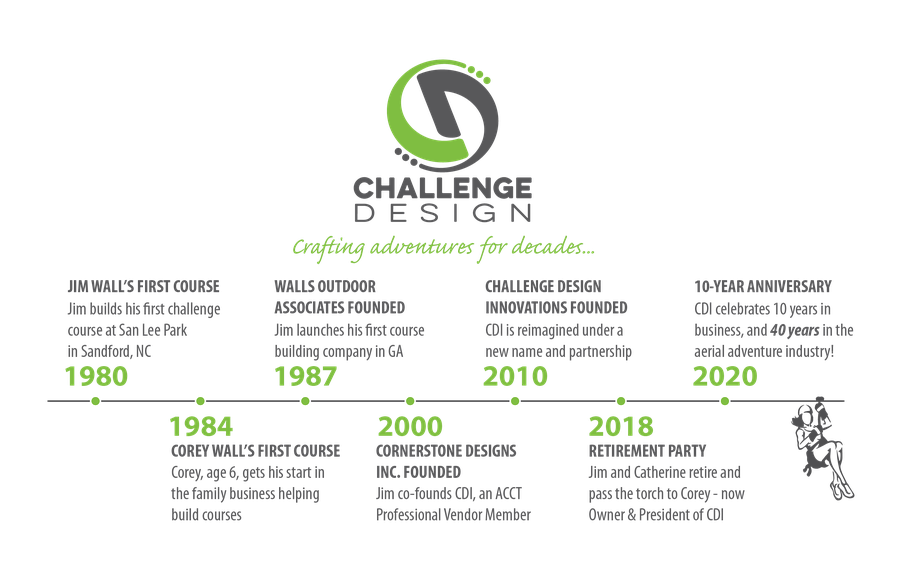 ###
Share on Facebook